September Raffle
Herman Monthly Raffle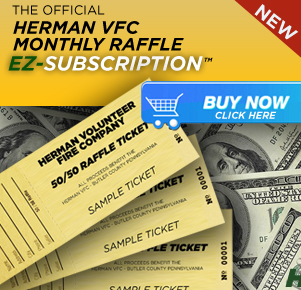 During this time of COVID-19, The Herman Volunteer Fire Company recommends that all visitors follow the CDC guidelines during all of our events.
Online sales are back!
♦ ON-LINE RAFFLE SALES ARE GROWING, WHICH MEANS A BIGGER PRIZE FOR THE MONTHLY WINNER!!!
DID YOU KNOW???
To purchase a monthly raffle ticket, you must be 18 years of age or older.
For a $1.00 you get a chance to win the monthly first prize, and a second chance a $500.00
MUST be 21 years of age or older to enter the night of the raffle.
What can you get if you show up the night of the raffle without buying a $1.00 Ticket?
A chance to purchase a monthly raffle ticket to be drawn that night.
FREE food
FREE beverages
A chance at several cash prizes!!!
Look for our Monthly Raffle Tickets and all of our other Fundraising tickets such as Cash Bash, Toy Bash, Community Day, Spring Fling, or the Bucks and Guns Raffle tickets at Schnur's Meat Market; Fenelton Market; Herman Mini Mart; and Fenelton Firearms.
2022 Herman Volunteer Fire Company Community Day and Gift Card Raffle.
We would like to invite all of you who have supported us year after Year to join us for a day of fun, food and entertainment.
Saturday, September 10, 2022
4:00 pm FIREWORKS at Dusk !!!
Kids Activities
Bounce House and Obstacle Course
High Flying Bungee
Kids Squirt House
FREE HAMBURGERS AND HOTDOGS and DRINKS
Drug Task Force, Pennsylvania State Police, Butler Elks Lodge 170
Wood Carver, Emergency Vehicles, Fire Safety House, Search and Rescue Dog Demonstration.
Tons of activities, Tons of Fun for the Community.
Gift Card Raffle Prizes:
Donations: $5 each or 5 tickets for $20.
5:30 pm- $125 Sheetz Gift Card
5:45 pm- $100 Schnur's Country FRESH Meats Gift Card
6:00 pm- $100 GetGo Gift Card
6:15 pm- $100 Home Depot Gift Card
6:30 pm- $150 Amazon Gift Card
6:45 pm- $100 Wal-Mart Gift Card
7:00 pm- $100 Herman Mini Mart Gift Card
7:15 pm- $100 Target Gift Card
7:30 pm- $100 Field House Gift Card
7:45 pm- $150 Texas Road House Gift Card
8:00 pm- $150 Fenelton Firearms Gift Card
8:15 pm- $150  Rural King Gift Card
8:30 pm- $500 CASH
License #03952