September Raffle
Herman Monthly Raffle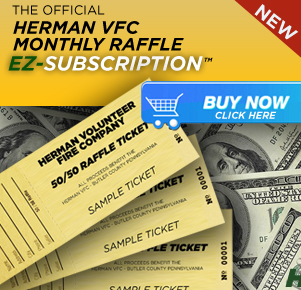 During this time of COVID-19, The Herman Volunteer Fire Company recommends that all visitors follow the CDC guidelines during all of our events.
Online sales are back!
♦ ON-LINE RAFFLE SALES ARE GROWING, WHICH MEANS A BIGGER PRIZE FOR THE MONTHLY WINNER!!!
DID YOU KNOW???
To purchase a monthly raffle ticket, you must be 18 years of age or older.
For a $1.00 you get a chance to win the monthly first prize, and a second chance a $500.00
MUST be 21 years of age or older to enter the night of the raffle.
What can you get if you show up the night of the raffle without buying a $1.00 Ticket?
A chance to purchase a monthly raffle ticket to be drawn that night.
FREE food
FREE beverages
A chance at several cash prizes!!!
Look for our Monthly Raffle Tickets and all of our other Fundraising tickets such as Cash Bash, Toy Bash, Community Day, Spring Fling, or the Bucks and Guns Raffle tickets at Schnur's Meat Market; Fenelton Market; Herman Mini Mart; and Fenelton Firearms.
Herman Volunteer Fire Company
We would like to thank all of you for coming out to the Bucks and Guns Event. Your support will help us replace our 1997 Seagrave Engine. This is an expense that takes several thousands of dollars. We are in process of specking and this is a long process, we are doing updates and replacement of aging equipment.