Description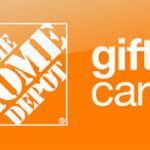 $500 Home Depot Gift Card AND $500 Bass Pro Gift Card
Ladies and Gentlemen,
We have a $500 Gift Card for Home Depot AND a $500 Gift Card for Bass Pro.
Fall Projects are coming up and so is Archery. Just a thought… But for those who may not know, you can use these cards for anything they have to offer.
Ladies, you can get your better half working on some of those" HONEY DO" LIST ITEMS!!
But that's not all… The person that has the 4th number above and below the revealed Tip Board Number will receive $100 worth of Pa. Lottery Scratch-Off Tickets!!
Donation: $20 Per Tip ONLY 100 TIPS BEING OFFERED
SURE TIP BOARD SERIAL NUMBER 34549
ALL-STATE AND FEDERAL LAWS APPLY.